UNEASY: RECENT SOUTH AUSTRALIAN ART
Uneasy takes on unquiet histories
Curated by Timothy Morrell
Samstag Museum of Art, 20 June -17 August 2008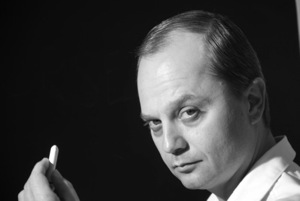 'Caught in a Loop' 2007, Sarah CrowEST

Image © The Artist
In the new Dr Who, Cardiff sits atop the rift. An invisible fault line in time and space that allows alternate time lines, irruptions, aliens to slip through into the 'real' world. The rift remains a source of lurking unease and threat. In some ways Adelaide is the same kind of place, its rift the profound disjuncture between the landscape and the colonial endeavour. The imposition of Adelaide's famous grid plan on systems (human, natural) antithetical to these orders, a schism that seeps an unquiet history.

For Uneasy, Recent South Australian Art, curator Timothy Morrell has chosen Adelaide as a locus of unease and South Australian artists as those closest to the rift as expressing the range of concern, disturbance and anxiety current here and in our world.

Different orders outside of the grid abound here; looping, binary, repetitive, neurotic. Like Ariel Hassan's loose net of dendritic cubes wiring the gallery space together invoking networks human and technological while the colourful patternings of Tracey Cornish's
Emission
Glitches
defuses techno threats by re-presenting programming errors as a fluid system. The hypnotic repetition of Cornish's work finds a consonance with Hossein Valamaneshs
Middle
Path
, a long scroll inscribed repeatedly with the Farsi word for love. The script fades towards the centre and returns to its original strength towards the rolled ends, this waxing and waning intimating the delicate mutability of things and a meditative progression through states of mind.

Deborah Sleeman's armoured dress forms fashioned from scavenged pressed tin, stand outside sentinel like recalling abandoned towns and stations across South Australia. Both witness to these lives and warning of the dangers of misunderstanding the landscape. Where Sleeman's history is human, Fiona Hall's
Mourning
Chorus
, a glass coffin and synthetic chorus of disappeared birds and Stronghold, while its holed up spider induces anxiety reminds that humans are the most devastating destroyers.

Warnings of a different kind appear in Matthew Bradley's work, his homemade weaponry, Air Cannon and videos are expressive of young men's will to action yet with undercurrents unsettling in their ambiguity, The distinction between, play or reality is always unclear. As Bradley's machinic urges play at versions of war, Annabell Collett's combat clothing makes explicit anxieties about unseen enemies by over normalising fashion's appropriation of camouflage fabric,
Childs Battledress
,
Camo Bear
and
Gitmo
Gear
, orange overalls deformed by clips, hooks and shackles create an image of an over anxious, over armed peoples.

This slippage of meaning, of context and content is delicately foregrounded in John Barbour's works. Veil-like fabric panels, raw edged, stained, they recall vestal robes, cere cloths and moral samplers, their uncertainly embroidered texts, "I will not steel", "more or less" are free floating messages available for meaning. Balanced delicately between form and formlessness, the time and meticulous process of their making imbues them with a weight beyond the simply material. The tension between this fine balance and the text's unfixedness makes these quietly troublesome works.

Where the works in Uneasy circle, suggest and allude, their expressive range and reach is evident, throwing out connections from this small, square space. Showing that the edge of the rift is a productive and revealing place.

Published:
Point Blank .02